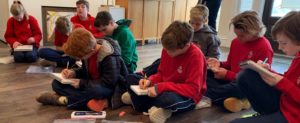 There is a good deal of satisfaction that comes from seeing it all come together.
In late January, our sixth grade class had the opportunity to visit the gallery and studio of Bryan Haynes in Washington, Missouri. The class made this trip as a part of their integral unit focused on the Great Depression. Mr. Haynes' work is often rooted in American Regionalism, a style of painting that developed during the 1930s in response to the Great Depression. The work is characterized by such artists as Missouri's Thomas Hart Benton and Iowa's Grant Wood (American Gothic).
As our students finish their time at Covenant Christian School our desire is that they would have an appreciation for the work of artists across many fields, while also developing their own abilities in these areas.  Visiting with and learning from Mr. Haynes allowed our students to go deeper in their understanding of the Great Depression, while adding richness to their own lives.
Covenant's Learning Goals are rooted in our understanding that children are whole persons, created in the image of God and worthy of dignity. As our students interacted with Mr. Haynes that day, and set about their work, I reflected on our goals and how they are playing out in such mighty ways in the lives of these students.
Spiritually, our students demonstrated an appreciation for the gifts given to Mr. Haynes by God for His purpose, while also seeking to understand and develop their own gifts. Intellectually, our students asked thoughtful questions, and were able to respond with insight to Mr. Haynes' questions about the subject matter contained in his paintings.
Artistically, our students were given two opportunities. First, they were asked to use their creative gifts to provide ideas regarding a mural that Mr. Haynes is creating for the Missouri History Museum in Forest Park. It was encouraging to watch these sixth graders as they went about their work, as they thought creatively about how to meet the requirements of the project and drew them in their journals. Second, students were asked to use skills they have developed over their time at Covenant to draw a horse sculpture that had been given to Mr. Haynes. The figure was gifted by Abraham Mohler, a sculptor who created the two pelican sculptures on our campus and who has worked regularly with our students.
As we were preparing to leave Mr. Haynes' studio and gallery that day, I thanked him, and he asked me if I thought our students understood how fortunate they were to go to a school like ours. I told him that our students were old enough to recognize and appreciate the opportunities that Covenant provided.
As I reflected on this interaction, I was reminded that we are a special community. We have an underlying philosophy of education that arises first and foremost out of our faith in Jesus Christ and which, in turn, emphasizes our need to educate the whole child.
It is truly a beautiful thing. And yes, there is a good deal of satisfaction that comes from seeing it all come together.
For a short video reflecting on the day our students had with Bryan Haynes, click here.