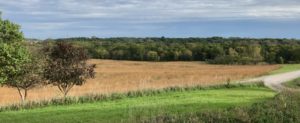 In September, Julie and I traveled to central Iowa and stayed in the farmhouse (now a bed and breakfast) that I lived in from the ages of 10 to 18. I wanted to go back because that place, that farm overlooking the Skunk River valley in central Iowa, has impacted my life in meaningful ways.  It was while living there that my faith in Christ blossomed. It was while living there that I developed my deepest friendships. And it was while living there that I learned the true delight that comes with enjoying God's creation; while also understanding that as a people we can take that good creation and abuse it.
Not only did that place impact my life, but it has also impacted the lives of the students at Covenant Christian School.
Part of my thinking regarding education evolved from my experiences living on that farm and playing along the Skunk River. A whole child education, which is foundational to our school, means that we help children to experience a depth and richness to their learning and an appreciation for where God has placed them. That farm mattered to me and still continues to matter to me. To this day, I feel connected to that place. I knew the trees and the fields and the critters and the river. It was the best playground a child could ever wish for.
It is my desire that our students would feel connected to this place. That it would be special; it would be meaningful to them. I don't just mean a connection to Covenant Christian School, but a connection to the broader community in which they live.
God does not place us randomly. Where God has placed us is important. This understanding is foundational as we provide formal learning experiences for our students connected to place; this place.
Recognizing the importance of place in education is often referred to as "place-based education," which David Sobel describes as "the process of using the local community and environment as a starting point to teach… subjects across the curriculum."
Through place-based education, our students use hands-on experiences to connect to, and make connections between, curriculum and place.  Studies show that a connection to place:
Enhances academic achievement (including standardized testing);
Develops critical-thinking and decision-making skills;
Grows and maintains an enthusiasm for learning;
Help students develop stronger ties to community;
Connects students to God's natural world;
Creates service minded leaders; and,
Encourages students to be active, contributing citizens.
In this place we educate and from this place we reach out into our community.  We reach out to engage our neighbors, our neighborhoods, the city, this country and this world for Christ.
John Roberts, Head of School