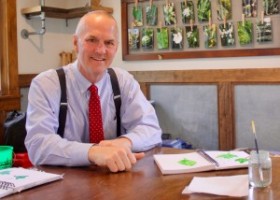 Since its founding in 2003, Covenant Christian School has sought to educate the whole child.  Our call to educate the whole child arises from an understanding that each child is created in the image of God and is multi-faceted and worthy of inherent dignity.  Our teachers work exceptionally hard to plan lessons that engage the whole child as an image bearer of God.  This understanding is deeply rooted in our school and reflected in everything we do.
Covenant School educates the whole child by coming alongside each learner to help them grow spiritually, intellectually, artistically, socially, emotionally and physically.  Educating the whole child, recognizing their inherent dignity, naturally enables us to provide a richness and depth to student learning.
We think of children, first and foremost, as spiritual beings.  When they finish their time at Covenant, we want them to love the Lord and their neighbor, have a foundational understanding of Scripture, know the gospel and to be able to defend their faith.
Intellectually, we seek to have our students ready to find academic success wherever God calls them after they finish their time at Covenant.  We help our students to be self-motivated learners, and purposeful, creative, and innovative thinkers.
Each student's artistic gifts are developed through the fine and performing arts.  For example, students take art class, but to further hone their skills they also take a separate drawing class.  In addition, our students have multiple opportunities to perform on stage in a variety of settings.
We carefully nurture our students socially and emotionally, helping them to apply biblical principles to relationships.  We help them identify and use their personal strengths, take responsibility for themselves, demonstrate respect for peers and those in authority and work effectively both individually and in group settings.
Carefully chosen experiences that blur the lines between the traditional classroom and the learning environment provide deeper understanding, while enriching the learning experience and demonstrating the connected nature of God's creation.  These experiences allow students to confidently explore their gifts, and all of God's creation in meaningful and creative ways.
Covenant intentionally allows for children to be active.  Recess is an opportunity for our students to play more traditional games, but also a time for fort building, tree climbing and engaging creatively with the school's extensive and varied outdoor space.  At the same time, Covenant students, through the Physical Education program, develop new skills as they learn to participate with Christ-like character.
Thinking of children as whole persons is at the core of our school.  It is reflected in everything we do: from our biblical worldview, to our integral curriculum, to purposeful relationships, and the experiences provided for our students.
John Roberts, Head of School
Listen to this blog post as a podcast, read by John Roberts.
To download, click here.