Volleyball, basketball, softball, baseball, soccer and golf – Covenant student athletes have many options.
Our athletics are currently run through Kirk Day School (KDS), a sister school. KDS participates in the West County volleyball, basketball, softball, baseball and golf leagues.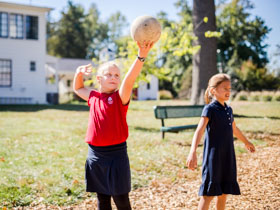 They are also a member of and participate in the West County CYC Soccer League. Assignment of students to athletic teams will be determined prayerfully by the folks at the Kirk. You may request a copy of their Athletic Program Mission and Philosophy, as well as team, coach and player information from the Covenant School office.
Sign-up sheets for specific sports are sent home with your child.