We take seriously our vision to be academically excellent in every aspect of our curriculum. To this end we combine small classes with an excellent curriculum to ready our students to excel wherever they may find themselves after their time at Covenant.
Two documents providing a curriculum overview are available in PDF form:
The curriculum for Covenant Christian School reflects our Reformed Christian worldview. In each subject, we strive to provide an academically challenging curriculum that is infused with the truths of God's Word.
Language Arts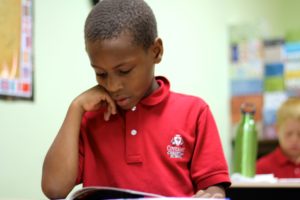 Covenant places a heavy emphasis on language arts, desiring each child to read well, write clearly, and speak effectively. Covenant takes an intensive phonics approach to reading, encouraging students to begin reading in Kindergarten. Grammar and mechanics are taught daily beginning in first grade. Reading comprehension is taught through classic children's literature. With a strong foundation in phonics and continued exposure to great works of literature, the students develop skills that will eventually help them to master the English language.
Math
Covenant uses the Saxon program for Math, supported with student manipulatives. Saxon is a traditional, rigorous math program that employs an incremental approach. This grounds the students in the grammar of math and provides continuous review of those skills.
Science
Students learn science though an inquiry-based curriculum. As early as Kindergarten, students participate in simple experiments and become familiar with the scientific process. Every lesson is a hands-on experiment in which the students learn through doing. Guided by a teacher's instruction, they learn to make predictions and anticipate results in a way that enforces a fundamental understanding of scientific truths. Concepts build on one another throughout the years, creating a strong foundation in science. Physical, Earth and Life Sciences are all covered throughout each year.
History
The study of history in the lower grades focuses on U.S. History and famous Americans who have made a positive contribution to the shaping of our country. Through reading biographies, autobiographies, and source documents, students learn not only about the individual, but also about the time in which they lived. Beginning in third grade, students study history chronologically using The Story of the World by Susan Wise Bauer. In third grade the students study the Ancients, fourth grade Medieval and Early Renaissance, fifth grade Late Renaissance and Early Modern Times and sixth grade the Modern Age.
Geography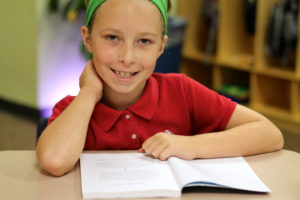 Geography is taught at each grade level, blending traditional memorization with a deeper understanding of geography's role in shaping our world. Students will focus on learning map skills, locating countries, states, and cities and major geographical features. The social, cultural, and political aspects of geography are continually integrated into other disciplines.
Bible
Christian School International's Bible curriculum presents the story of God and His people in chronological order, teaching biblical truths in the context of biblical events. By studying how God guides his people, students gain an understanding of what it means to be part of God's family. Weekly Bible Memory verses are also a part of the students' Bible work.
Latin
Covenant students grades fourth to sixth receive instruction in Latin.  Latin provides students with:
Great opportunities for expanding student understanding of the English language. Latin roots make up a significant percentage of the English language (studies indicate this figure to be nearly 30%).
An improved understanding and application of English grammar.
A solid foundation in grammar, supporting later instruction in the languages in general and in particular the Romance languages (i.e. Spanish, Italian and French).  As students leave Covenant through Latin instruction they will be better prepared for further study in the language of their choosing.
An opportunity to merge their Latin instruction with other subjects such as science (particularly those areas of science focused on animals and plants).
Greatly enhanced studies of cultures across time and geography.
Physical Education
Physical education plays a significant part in developing and training the bodies God has given us. Exercise helps students to grow in strength and coordination. Team sports and games require cooperation and encourage students to grow as Christians who can work together for the Kingdom of God.