Covenant Christian School has a formal sister school relationship with Grace Saemmul Christian School located in Seoul, South Korea.
Grace Saemmul currently serves Kindergarten to 6th grade with an adjacent high school that serves students grades 7 to 12.  The school is a ministry of Grace Saemmul Church and shares the mission, vision, and core values of the church. At the high school level, Saemmul has a similar relationship with Westminster Christian Academy.
Global Partnership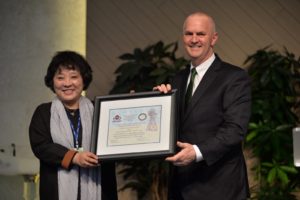 The global partnership program, which begins with Saemmul School, provides opportunities for Covenant students to develop transformative relationships with young people from countries throughout the world.  Students experience cross-cultural learning and growth experiences that expose them to the culture, language and history of young people from different racial, ethnic, and geographic backgrounds.  These partnerships serve as an initiative to implement priority in Covenant's strategic plan.
Cooperative Activities and Programs
Covenant and Saemmul cooperate in implementing educational activities on a reciprocal basis.  These activities include:
School-wide exchanges including reciprocal school visits and the exchange of letters.
Student projects/assignments conducted by both schools on an agreed upon topic/subject area.
Joint staff professional development.
Exchange of teaching methodologies, curricula, program outlines and cross-cultural resources.
We are all very excited about this wonderful opportunity!